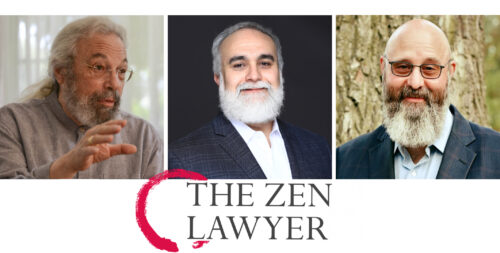 About the Skills of Grief Counseling Workshop
This six-week online course presents a unique synthesis of multiple disciplines, which Michael Leizerman has developed to achieve record results in his personal injury cases. Michael hosts Jay Rinsen Weik, American Zen Master and 6th Degree Black Belt, who will introduce and guide attendees in counseling methods grounded in Buddhist practice; and Joshua Karton, the trial consultant who hones your ability to lead your jury inside the felt reality of surviving in the wake of harrowing loss. This course unites these three instructors' experience and techniques for empowering jurors to champion your client's case. Register here via Eventbrite.
You Will Learn
Center, ground and disburse feelings in your body and mind to help yourself and your clients

Deal with your empathetic distress

Conduct better client interviews

Emotionally and tactically prepare your client for deposition

Conduct a powerful direct examination of your client

Apply the concepts in this course to closing argument

Transform your client's grief to healing and motivate the jury to act to help
Schedule and Registration
Registration includes all six sessions of this course:
Week One: Introduction. March 30, 7:00 – 9:00 PM EST.
Week Two: What is "Embodied Emotional Counseling?" April 6, 7:00 – 9:00 PM EST.
Week Three: Avoiding Empathetic Distress + Client Interviews. April 13, 7:00 – 9:00 PM EST.
Week Four: Client Deposition Prep + Direct Examination. April 20, 7:00 – 9:00 PM EST.
Week Five: Closing Arguments. April 27, 7:00 – 9:00 PM EST.
Week Six: Transforming Grief into Action for Jurors. May 4, 7:00 – 9:00 PM EST.
Course cost for all 6 sessions is $240. Scholarships are available – contact Angie at angie@truckaccidents.com to apply.
Register here via Eventbrite.